These days, the only chance you'll ever see a popular book brought to animation or "reviving" a classic animated series is either through;
A) an unnecessary, clichéd Hollywood movie stuffed with big stars and poor storytelling, or;
B) a chunk of episodes for a series that maintains no continuity at all and/or bears little resemblance to the original book whatsoever.
Case in point in terms of
Yogi Bear
and
Muddle Earth
. If you have never seen/read the original versions -
PLEASE
DO SO,
for the sake of today's generation
.
Back in the day, whenever a children's book or comic was brought to the small screen it was done properly: faithful to the writer/s's work and their followers.
Cosgrove Hall
did fantastically with
Kenneth Grahame's Wind in the Willows and Terry Pratchett's Truckers
- but though you're welcome to Marvel if you're into that sort of thing, one of my favourite comic strips was
Bananaman
... =D
Drawn by
John Geering
, Bananaman originally featured in a British Comic known as
Nutty
during the '80's before it merged within
The Dandy
. A funtastic series which is a complete farce on
Superman
, featuring villains galore (including
General Blight and Dr. Gloom
). But it still gave plenty of nods towards
Silver Age
and
Marvelman
whilst chock-a-blocked with our surreal British Humour.
The premise is simple: whenever schoolboy Eric eats a banana, he transforms into Bananaman, "
ever alert to the call of action!
", with helpful allies
Crow
and
Chief O'Reilly
by his side.
Then three years after his comic strip debut, the creators approached animator
Terry Ward
of
Flicks Films
(
Mr Men
,
Nellie the Elephant
,
Junglies
,
Beano Videostars
among others) to turn their comic into an animated series by the BBC and
101 Productions
. So they did, with voices and ad-libbing provided by
The Goodies
(
Tim Brooke-Taylor, Graeme Garden
and
Bill Oddie)
, three talented chaps who aren't afraid of still being silly after a successful live-action cartoon-type series of their own - which only goes to prove that with the right people involved, a truer and memorable adaptation
can
be made possible (without
too
much tweaking)!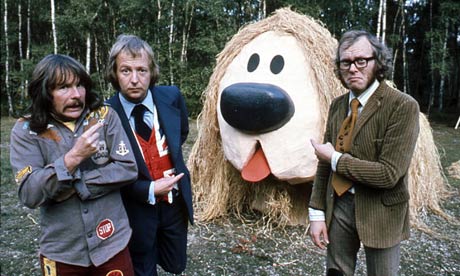 Though Bananaman still roams within the Dandy today, he just doesn't feel the same as he used to - but at least the original series has had enough
a-peel
to earn itself
a massive DVD release
. So check out an episode or two below and laugh yourself silly!
....and afterward, be sure to visit the following pages also!